The Author
Christophe André is a psychiatrist specializing in the psychology of emotions. His books include Imperfect, Free, and Happy, and Meditating, Day after Day. He lives in France. For more, visit christopheandre.com.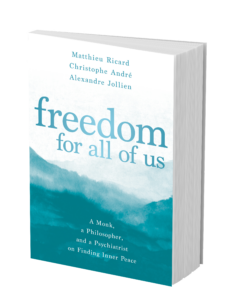 The Book
With their acclaimed book In Search of Wisdom, three gifted friends—a monk, a philosopher, and a psychiatrist—shed light on our universal quest for meaning, purpose, and understanding. Now, in this new in-depth offering, they invite us to tend to the garden of our true nature: freedom.
Filled with unexpected insights and specific strategies, Freedom for All of Us presents an inspiring guide for breaking free of the unconscious walls that confine us.
Translated from the original responses in French.
Send us a photo of your sacred space or workspace.
Here is the view from my home office in Saint-Malo, Brittany, France. My writing space is situated on the top-most floor of the house, just underneath our roof, and each time I lift my head to look out the window, I see the beach, the ocean, and, further away, the ramparts of the old city. The ever-changing nature [of this place], the sky and the tides forever moving (and morphing), the memory of all the corsairs (pirates) of Saint-Malo's past … all of these things are what inspire me and bring joy to my life.
What is something about you that doesn't make it into your author bio? It could be something that impacts your work, or something totally random and entertaining!
[There's] nothing necessarily odd or extraordinary, but perhaps a rather banal fact [is my] being a parent. For me, becoming a father is the event that has most changed me in my life (and has most encouraged me to better myself). It has truly enriched my life the most.
There are two key moments (or memories) that for me [define] being a parent. Firstly, those moments where we realize our children are watching and judging us; and this moment can be very moving and also uncomfortable as a parent, because you feel like your children have discovered all your limits or your faults. (How can we hide it? Impossible, they will see them! At least once, or from time to time.) The essential lesson is that we don't try to constantly hide our true selves, and this encourages us to transform ourselves. The watchful eye and judgments of our children can feel like a challenge for parents, but a fruitful challenge [nonetheless].
The other key moment is when we realize that our children are more skilled in ways we are not (and sometimes in all ways)! It's that moment when we discover that we, as parents, are learning from our children; their intelligence, generosity, and enthusiasm. It's the moment that we allow ourselves, discreetly and with great humility, to let them be our teachers.
If you could invite any three transformational leaders or spiritual teachers (throughout time) to dinner, who would they be and why?
I imagine I would probably be too intimidated to actually have dinner or a conversation with the following three people! I would probably prefer to follow them, like a shadow or a small mouse, and to watch them live and work over several days. To observe their intimate, everyday routines, and listen to their discourse (which in a way is possible with all of their published works). It has always seemed to me that wisdom arises, above all, through example and embodiment.
I would love to follow the everyday life of Etty Hillesum, [the writer], who was a stranger to hatred. Even when she would have every reason to hate the Nazis, who had her executed [at Auschwitz], she still spoke of grace even in a world where only fear, violence, and injustice seemed to live.
I would love to follow alongside Rev. Martin Luther King Jr. during a day in his life. I admire him for his choice to fight for civil rights without the use of violence. I remember, vividly, crying when I visited his memorial in Atlanta.
And finally, I would love to shadow Henry David Thoreau when he was living in his cabin at Walden. I admire his decision to live a life filled with only the essentials: nature, spirituality, and few material possessions, which is in stark contrast to the mistakes and values that we hold in this modern day.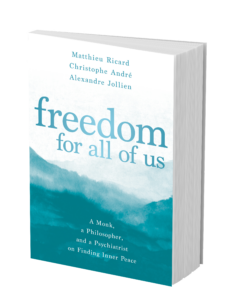 Learn More
Sounds True | Amazon | Barnes & Noble | Bookshop | IndieBound