S3 E2: Letting Go of Reactive Energies

There's nothing even remotely spiritual about going through life reacting to events. In this episode, Michael Singer explores how to become aware of our emotional reactions,...
Search for Insights at the Edge of your favorite podcast app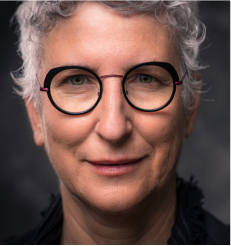 Meet Your Host Tami Simon
Founded Sounds True in 1985 as a multimedia publishing house with a mission to disseminate spiritual wisdom. She hosts a popular weekly podcast called Insights at the Edge, where she has interviewed many of today's leading teachers. Tami lives with her wife, Julie M. Kramer, and their two spoodles, Rasberry and Bula, in Boulder, Colorado.
Author photo © Jason Elias
There's nothing even remotely spiritual about going through life reacting to events. In this episode, Michael Singer explores how to become aware of our emotional reactions, navigate the energies that drive them, and learn to respond to triggering events with greater consciousness.
When we suffer a serious loss, we come face-to-face with the fragile nature of this world. Yet in today's culture, we often try to avoid or deny the deep emotions associated with losing the people and things we love. In this podcast, Tami Simon speaks with therapist and grief consultant Megan Devine about her uniquely helpful books with Sounds True, It's OK That You're Not OK and How to Carry What Can't Be Fixed. 
Tune in for a much-needed conversation on the best ways to tend one another's pain during periods of loss, as Tami and Megan discuss: the cover-up narrative that "bad things help us grow"; the roots of today's grief phobia; pain vs suffering; grief without a story; the healing power of acknowledgment; tolerating feelings of helplessness; the impulse to fix things; the weaponization of acceptance; time and the notion of complicated grief; the dangers of pathologizing grief; the lost opportunity to reframe grief during the pandemic; naming the awkward instead of silencing yourself; offering concrete assistance rather than an open offer to help; three kinds of hope: transactional, functional, and inhabitable; speaking our truth and allowing others the same; and more.
Note: This episode originally aired on Sounds True One, where these special episodes of Insights at the Edge are available to watch live on video and with exclusive access to Q&As with our guests. Learn more at join.soundstrue.com.
In this season opener, Michael Singer guides us into the understanding and practice of what he calls "the highest technique," that of relaxing in the midst of your resistance to life's events—and then fully experiencing the present moment.
Dr. W. Keith Campbell is a social psychologist and professor in the Behavioral and Brain Sciences Program at the University of Georgia. Best known for his research and writing on narcissism, Dr. Campbell is the author of several books including The Handbook of Narcissism and Narcissistic Personality Disorder, When You Love a Man Who Loves Himself, The Narcissism Epidemic, and a new book with Sounds True, The New Science of Narcissism: Understanding One of the Greatest Psychological Challenges of Our Time―and What You Can Do About It. In this podcast, Sounds True founder Tami Simon speaks with Dr. Campbell about the latest scientific understanding of narcissism and its various forms, the spectrum of narcissism and Narcissistic Personality Disorder, the "big five" personality traits and the importance of balance, the malleability of our personalities and the possibility for change, and more.
Jennie Lee is a recognized expert in the fields of yoga therapy and spiritual living. She has taught classical yoga and meditation for more than 20 years and coaches private clients in practices that integrate life spiritually, emotionally, mentally, and physically. With Sounds True, Jennie Lee has published the book Spark Change: 108 Provocative Questions for Spiritual Evolution, where she guides the reader through powerful question prompts designed to deepen your awareness of your innermost needs and initiate powerful shifts in your life. In this conversation with Sounds True founder Tami Simon, Jennie discusses the importance of knowing how to ask the right questions, rediscovering the art of introspection, assessing your own spiritual evolution, and much more.
For decades, New York Times bestselling author Cheryl Richardson has been renowned as a self-care coach for professionals and other high achievers. But when she entered her elder years, life surprised her. All of her many achievements became less important than a new landscape of joys and aspirations that began emerging. "The journey through midlife and beyond," Cheryl says, "is a shift from less ego to more soul." In this uplifting episode, she joins host Tami Simon to share practical insights for anyone, at any "calendar age," to move beyond outer accomplishments and approval, and nurture a deeper life of pleasure and purpose.
Lance Allred is a former NBA player (who was the first legally deaf player in the league), public speaker, and author. With Sounds True, he has published The New Alpha Male: How to Win the Game When the Rules Are Changing. In this episode of Insights at the Edge, Tami Simon speaks with Lance about the experiences he had in professional sports that led him to reevaluate what it means to be a man in contemporary society. Lance explains how his upbringing in a rural, polygamous commune informed his original ideas about masculinity, highlighting the subconscious assumptions about money and power that affect American men's self-worth. Tami and Lance also discuss the roles of emotional vulnerability and surrender in the lives of modern men. Finally, they talk about the principle of perseverance and the increasingly urgent need for all cultures to reexamine their assumptions and core values.(63 minutes)
Micah Mortali is the director of the Kripalu School, a certified yoga teacher, and a longtime wilderness guide. With Sounds True, he has published Rewilding: Meditations, Practices, and Skills for Awakening in Nature. In this episode of Insights at the Edge, Tami Simon speaks with Micah about humanity's growing disconnection from the earth and how "rewilding" can help slow that trend. They talk about rewilding both as individuals and as part of whole ecosystems. Micah also shares the story of an intense, revelatory trail encounter with a bear and comments on the "species loneliness" of urban environments. Mulling the sense of grief they have for humankind's effects on the environment, Tami and Micah consider how modern people can grapple with being in exile from the natural world. Finally, they discuss the barriers many have to reentering nature, as well as ways to initiate your own rewilding experience no matter where you are.(64 minutes)
Christian Conte, PhD, is a mental health specialist and leading authority on anger management. With Sounds True, Christian has published Walking Through Anger: A New Design for Confronting Conflict in an Emotionally Charged World. In this episode of Insights at the Edge, Tami Simon talks with Christian about his Yield Theory of emotional management, focusing on the process of "listen, validate, explore options." Christian explains the events that led to his interest in anger management, as well as the origins of Yield Theory. He emphasizes the importance of meeting others where they are, giving them the opportunity to drain anger's charge from their limbic system. Christian and Tami discuss why it's necessary to cultivate humility and how Yield Theory might be applied to our currently divisive culture. Finally, they speak on "the cartoon world" that angry responses often create, as well as the importance of watching what we add to our minds.(63 minutes)