Sometime last year, I was having a conversation with a close relative of mine. I had sent them a recent news story I was quoted in and had been met with… silence. Eventually, I nudged a little bit and they responded, saying "I'm sorry, I just can't be proud of someone who talks about sex and sex toys for a living. It's embarrassing." As we unpacked this statement, it became clear that they were unable to see the good—any good—in my work. As a therapist, as a writer, as an educator… my work was shameful in their eyes.  In that moment, I understood my clients in a way I never had before.
With Sprinkles on Top was already finished by the time this occurred, but if it hadn't? This conversation would have inspired me to write it. It can be incredibly painful to have someone you love tell you that "What you do is wrong. Who you are is not OK." Many kinky people are afraid that if they share their innermost selves with the ones they love most, they too will be rejected, written off as broken or creepy or wrong. I wrote Sprinkles because I believe deeply that every single human being deserves to feel loved and worthy and whole, to know that their innermost desires are not just valid but beautiful, and to find others who can celebrate this beauty and their relationships together with them.
Sprinkles is also written for the partners of these kinky people, many of whom tell me that, if their spouse had just been willing to share their desires, they would have happily explored with them. For the spouses who don't understand the fantasies or intimate practices they're learning about and who need a guide to help them navigate these new relationship waters. For the men and women who call my office afraid—afraid that there's something wrong with their partner or something inadequate in themselves.
They want me to "fix" them. I want to celebrate them.
With Sprinkles on Top is not a "how to" book. It's a "what now?" book. My goal is to celebrate the things that make each person and each relationship unique and delightful—and to help them discover new unique qualities in themselves and new ways to delight one another. I want to celebrate vanilla relationship values while also normalizing and affirming kinky identities. I want to help my readers find new and exciting ways to enhance their own core sexual and relational "flavor" through interactive activities they do by themselves and with their partner.
Differences in desire represent an exciting opportunity to strengthen and reinforce the bonds of intimacy and trust we have created within our relationships, while also expanding the erotic playground we enjoy together. We don't have to change who we are. We don't have to be ashamed of what we want or embarrassed to talk about it. Sexuality, desire, and intimacy are, to me, sacred gifts. I'm honored to be able to help my readers, my clients, and others to build happier, healthier relationships with their bodies, their partners, and themselves. I hope you enjoy the process of finding your sprinkles and using them to communicate, explore, and connect with the one(s) you love.
Kol Tuv,
Stefani Goerlich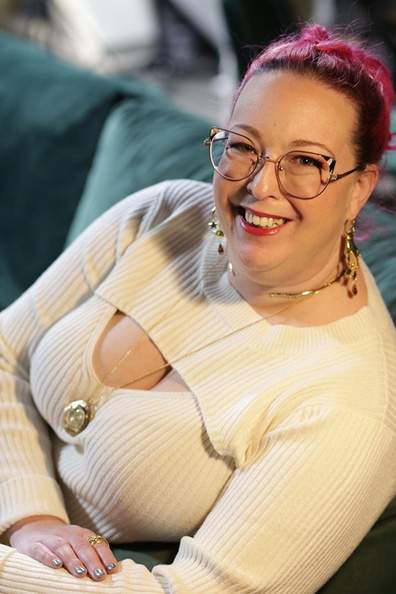 Stefani Goerlich, PhD, LMSW-Clinical, LISW, LCSW, CST, is a certified sex therapist and master social worker who specializes in working with gender, sexuality, and relationships. She is a sought-after clinical supervisor, media consultant, and conference presenter who has appeared in media ranging from CNN and the Washington Post to Cosmopolitan and Teen Vogue. She is the award-winning author of the professional books The Leather Couch and Kink-Affirming Practice.

Author photo © Kim Williams