One of the things that get us so stressed out during the holiday season is the Must Do list, the unending expectations, the anxiety that comes when we feel we've let people down. But it doesn't have to be that way. The holidays can literally be Holy Days, when you feel the love and light of family, friends, community and the shared gratitude of celebration.
Here are a few ways that Energy Medicine Yoga can help you this season.

Knowing the right way to say "No"
You know you want to say No, but you don't know how. Before you say Yes, and add one more thing to an already full plate, take a moment in silence. Tune in and see what you really want to do. Then take one hand and draw big figure 8's all along your throat. This is the home of the 5th chakra, where you speak your truth. The figure 8's will help you find more clarity and ease with what can be a difficult answer.

Keep your own energies intact with the Zip Up
When you're around a lot of people, you can take on the energies of everyone around you and start to feel like you're losing your own self. Bring your hands in front of your pubic bone, set an intention to stay calm and true to yourself, and sweep your hands up your body and over your head. Do this two more times.

Calm down your stress response with this 'hug'
Holidays can be stressful, and your body will respond to that. You can balance the stress response with the 'inner mom' by doing the Spleen hug. Hug one hand around your waist, hug the other hand around the opposite elbow. You can stand like this around the punch bowl, and feel calm and grounded so you can enjoy the holiday chaos!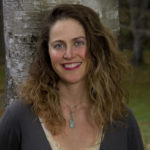 Lauren Walker is the author of The Energy Medicine Yoga Prescription (Sounds True, Sept 2017) and Energy Medicine Yoga: Amplify the Healing Power of Your Yoga Practice (Sounds True, 2014). She's been teaching yoga and meditation since 1997 and created Energy Medicine Yoga while teaching at Norwich University. She teaches EMYoga across the US and internationally and has been featured in Yoga Journal, Mantra Yoga + Healing, Yoga Digest, and The New York Times. She was recently named one of the top 100 most influential yoga teachers in America by Sonima. For more information, visit EMYoga.net.
The community here at Sounds True wishes you a lovely holiday season! We are happy to collaborate with some of our Sounds True authors to offer you wisdom and practices as we move into this time together; please enjoy this blog series for your holiday season. 
To help encourage you and your loved ones to explore new possibilities this holiday season, we're offering 40% off nearly all of our programs, books, and courses sitewide. May you find the wisdom to light your way.