Practicing being true to ourselves is a delicate dance of knowing ourselves, then respecting and serving that truth. This requires cultivation of both internal stability and external ease. How can we do this when we are surrounded by cultural chaos as well as our own family dramas? Here are three ways to Practice You this holiday season.
Write It Down
Set a timer for five to ten minutes; write who you are and where you're going. Note every label and defining element of who you perceive yourself to be, and then note your vision for yourself next year, in five years and in ten years. Coming to know yourself will help you be steady when confronted, soft when you'd normally get agitated, and more kind at just the right times.
Sit With It
Nothing changes in an instant, and we can continuously and simply ask to be shown what the next step might be. If prayer is when we speak to our idea of a higher power, meditation is a moment to listen for healing, becomes a respite, a break in the day, a time to heal ourselves. Sit with it. Sit with what you learn when you listen a few minutes more.
Move More Slowly
One of the simplest ways I practice being myself is to simply slow down. I've learned this from every moment of deep loss, grief, or heartache–if i move more slowly, I won't break. I can see what's useful, what's nourishing, what's holy about this moment. Slowing down for myself helps me refine what I'm practicing and choosing in my life.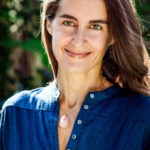 Elena Brower is a Mama, author of Practice You, yoga instructor, designer, and artist based in New York City. Devoted to cultivating meditation as our most healing habit, she's created potent online coursework and produced On Meditation, a film featuring personal portraits of renowned meditators. For more, visit elenabrower.com.