The holiday season can be a joyous and fun time for many, and a sad or lonely time for others. But regardless of how this season sits, it is almost always a time of increased stress and overwhelm.
With these simple steps, you can cut down your own stress and find peace of mind.
Get crystal clear on what is MOST important to you
With clarity about your values, you will be able to decide what you are going to say 'yes' to and what you are going to say 'no' to with greater ease and grace. If you want to feel peaceful? Say no to the four parties on one day. If you want to feel energetic? Put your phone down and go to bed on time. If you want to keep your immune system healthy? Go easy on the sugar and alcohol and make healthy food choices.

Volunteer!
Studies show that volunteering is good for your own stress level—as long as your motivation is for the benefit of others and not yourself. Find an organization you think is doing great work and carve out some time to help.
Set clear boundaries
With the onslaught of parties and events, visitors and responsibilities, it's easy to get into more than we can reasonably handle. Don't be afraid to say 'no.' My favorite tip for this is to tell people, when they ask me for something, is to say that "I'm not 100% sure if that can work for me; I'll send you an email by tomorrow end of day to let you know." That gives you a chance to actually consider whether it is something you really want to do, and also makes it a little easier to let people down gently.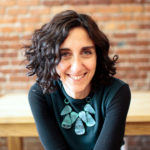 Dr. Samantha Brody, author of Overcoming Overwhelm, is a naturopathic physician and acupuncturist and founder of Evergreen Natural Health Center in Portland, Oregon. Licensed as a primary care provider with extensive training and experience in both complementary and Western medicine, she has worked with over 30,000 patients and clients in the past twenty years. Her mission is to empower people to address the stress in their lives and help them to make changes that are in alignment with their personal health goals and values. She holds a doctoral degree in naturopathic medicine and a master's degree in oriental medicine from the National University of Natural Medicine. She is a sought-after international speaker who educates lay and professional audiences on the issues of stress and health. Dr. Samantha writes for a variety of publications and has been quoted extensively in books and media outlets including the Los Angeles Times, Wall Street Journal, HuffPost, and Shape. Learn more at drsamantha.com.
The community here at Sounds True wishes you a lovely holiday season! We are happy to collaborate with some of our Sounds True authors to offer you wisdom and practices as we move into this time together; please enjoy this blog series for your holiday season. 
To help encourage you and your loved ones to explore new possibilities this holiday season, we're offering 40% off nearly all of our programs, books, and courses sitewide. May you find the wisdom to light your way.