The holiday season sometimes feel like brief moments of joy thrown together with an awful lot of unsettled intensity. Attending to those easier times doesn't mean we should ignore the unpleasant, but we can aim to not get so caught up in it. It is often expectations, anxieties, and perfectionism that amp up our holiday experience. Focusing on what we value and giving those times our most direct attention, we end up with a happier and more restorative holiday season.
Give happier moments your full attention, as you would a meditation
Whenever you catch yourself distracted from a moment of ease, come back. That could be through spending a few minutes alone, or with a favorite person or pet. It could mean taking in a party while the room feels full of connection and excitement. Or savoring a favorite food. Notice when you're distracted by future planning, problem solving, or past conflicts, and in an unforced way, immerse yourself in a joyful moment.
Let go of expectations and comparison
Don't 'should' on your holidays by thinking they should be better or resemble that family's holidays or resemble holidays from ten years ago. These holidays will never, by definition, be the same as any other. If something truly has you down, even that gets complicated by 'should'—like thinking you should be joyful when you're not. Ever find yourself doing something because you should, instead of wanting or needing to? Whenever you notice 'should-ing,' see if you can note the thoughts and come back to whatever you feel best.
Let go of perfection
Check in with what you value and want to give to others. Ease, connection, what most comes to mind? Let go of stories about what must unfold in some precise way to meet your holiday standard. Wishes are one thing (I hope we're all happy and healthy), perfection is unlikely (everyone better get along this year for once).
Sustain yourself
Let go, when you choose (and without hassling yourself), of how you typically live while keeping up with whatever keeps you strong. How little sleep and exercise are okay before you implode emotionally? How much indulging before you feel miserable the next day and maybe one after that? How much stress relates to getting physically run down? And then, always remember that practicing gratitude and giving to others may be one of the most valuable, sustaining choices we have. Happy holidays!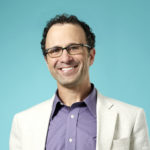 Mark Bertin is a pediatrician, author, professor, and mindfulness teacher specializing in neurodevelopmental behavioral pediatrics. He is the author of How Children Thrive: The Practical Science of Raising Independent, Resilient, and Happy Kids, a regular contributor to Mindful.org, HuffPost, and Psychology Today. Dr. Bertin resides in Pleasantville, New York. For more, visit developmentaldoctor.com.
The community here at Sounds True wishes you a lovely holiday season! We are happy to collaborate with some of our Sounds True authors to offer you wisdom and practices as we move into this time together; please enjoy this blog series for your holiday season. 
To help encourage you and your loved ones to explore new possibilities this holiday season, we're offering 40% off nearly all of our programs, books, and courses sitewide. May you find the wisdom to light your way.