Giving yourself permission to rest during the holiday time is perhaps the most radical—and life-saving—act you can do. Here are a few easy ways to give yourself the gift of rest. Your family and friends will thank you—and might just lie down too!
Meditate Every Morning or Evening
If you have 15-minutes, try practicing yoga nidra meditation, a guided meditation also known as yogic sleep. This is supreme relaxation. You can find yoga nidra online. If you don't have that kind of time, silent meditation for even just 3 minutes every day can feel restful. Close your eyes, and notice your breath. You can repeat a mantra or a relaxing word as you breathe in and out. If family is visiting and you don't have a quiet spot in the house, meditate in your car or even in the bathroom!
Breath Counting
We tend to forget just how restful it can feel to breathe. Breath counting pulls the mind away from stress and towards a more centered, balanced feeling. To practice, count backwards slowly, with rhythmic inhalations and exhalations, and say to yourself as you breathe, "Breathing in, 11, breathing out, 11, breathing in, 10, breathing out, 10." And so on, counting down to one. You do this while breathing the whole body or engage a chakra and breathe into that area. Befriend the breath.
Walking Meditation (extra points for bare feet!)
If you're stressed over the holidays, walk in silence on the ground for five minutes or more. As Thich Nhat Hanh says, "Walk as if your feet are kissing the earth." Walking bare-footed is ideal—outside or in your home. More and more evidence suggests that we need the Earth's electrons for our well-being—it improves sleep, pain management, and stress. If you can't walk in silence, try cooking your holiday meal mindfully in bare feet, Your body will thank you.
Watch the Sun Set or Rise
Sunrise and sunset are mystical times of the day. Busy lives don't easily give us access to the soul. During sunset and sunrise the veils of illusions, which pull us away from our truest self, are thin. We can see ourselves more clearly and feel more intuitive and creative. If you can, watch the sun set or rise in silence. Your nervous system will thank you.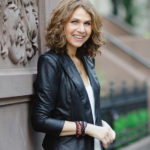 Karen Brody is a women's well-being and leadership expert who helps women journey from worn out to well rested and then dream big in their work and lives. A certified yoga nidra instructor, she is the author of Daring to Rest: Reclaim Your Power with Yoga Nidra Rest Meditation, founder of Daring to Rest, a yoga nidra-based self-empowerment program for women. She has an MA in Women and International Development from the Institute of Social Studies in the Netherlands, and a BA in sociology from Vassar. Karen is also a playwright, and Birth, her theater-for-social-change play has been seen in over 75 cities around the world. She is the mother of two boys and met her husband in the Peace Corps. She resides in Washington, DC, but considers the world her home.
The community here at Sounds True wishes you a lovely holiday season! We are happy to collaborate with some of our Sounds True authors to offer you wisdom and practices as we move into this time together; please enjoy this blog series for your holiday season. 
To help encourage you and your loved ones to explore new possibilities this holiday season, we're offering 40% off nearly all of our programs, books, and courses sitewide. May you find the wisdom to light your way.