Sex, health, happiness, and wealth . . . you know you want it all. And there's no better time than now for having it all
and
"gettin' it good!

"
Without social networking, motorized vehicles, or modern-day technology, many of our ancestors went for what they wanted and got it. One trailblazing "I've got this" woman I revere is Dr. Rebecca Lee Crumpler. As the Civil War raged in 1864, 33-year-old Rebecca Lee became the first Black female physician in the US. She graduated from what is now Boston University School of Medicine. In 1865, with her husband, Arthur Crumpler, she courageously journeyed to Richmond, Virginia, to provide medical care to recently freed slaves that the White doctors would not touch.
Her life in Virginia wasn't easy. While there, many pharmacists refused to honor her prescriptions, some hospitals denied her admitting privileges, and some—reportedly, even physician colleagues—wisecracked that the "MD" after her name stood not for medical doctor, but for "mule driver." But Dr. Crumpler persevered!
She remained in Virginia for almost four years then returned to Boston in 1869, established her medical practice, and wrote a book about women's and children's health. She blazed a trail upon which many have and do tread.
Hers is just one story of a brave, determined, capable Black woman. Over the centuries, there have been more in numbers untold! In the 1900s, especially during the Civil Rights Movement, Black women were instrumental in the reckoning of a nation. While their husbands got the most notoriety, matriarchs such as Coretta Scott King, Juanita Abernathy, and Lillian Lewis stood along- side their men and played pivotal roles in moving the nation forward to live up to its creed.
And as the first decade of 2000 ended and a new one began, Black women became increasingly on the move, onward and upward, and are now doctors, accountants, judges, pilots, investment managers, nurses, and elected officials as well as wives, mothers, and caregiving daughters. Undoubtedly, many of today's Black women are carving out lives about which our great-great- grandmothers may have only dared to dream.
Black women's voices are no longer muted or silenced; instead, they are heard around the world, with sophisticated, strong, and successful style. In 2020, America elected its first Black female vice president, Kamala Harris, at whose 2021 inauguration the words of the first Youth Poet Laureate of the US, Amanda Gorman, rang forth for the world to hear. But there's more!
In February 2021, Georgia Tech engineering major Breanna Ivey interned at NASA and helped put their rover, Perseverance, on Mars! And as the COVID-19 pandemic stole lives around the globe, vaccine researcher Kizzmekia Corbett, who has a PhD in microbiology and immunology that she earned at the University of North Carolina at Chapel Hill, worked with the National Institutes of Health and was instrumental in bringing safe, effective vaccines to the world.
Indeed, Black Girl Magic is in full force! When we look around, seemingly there's hardly any- thing Black women can't do—and do well—in any field, including medicine, the military, politics, education, technology, business, sports, aeronautics, and the arts. What we put our minds to, we can achieve! With an "I've got this" approach and determination, it is ours to be had.
But life is not a bed of roses for all Black women. Too often (and still) negative images barrage our psyches, loved ones in our community lose their lives in gun violence, and our health often needs dramatic improvement. Black women still carry the highest incidence of, and the poorest prognosis for, medical conditions that affect practically every organ system in the body. We are more obese and have a shorter life expectancy than other women in the female demographic, and we carry the highest mortality rate for many killer diseases such as diabetes, heart disease, cancer, infant mortality, HIV/AIDS, and more.
Despite those findings, the plight of Black women's health is rarely, if ever, specifically addressed at length in general women's health books. For that reason I have stepped outside of my medical office, outside of the sacred space of the surgical suite, even outside of my city and state to offer women in America and abroad Black Women's Wellness: Your "I've Got This!" Guide to Health, Sex, and Phenomenal Living. May it be the one-stop source you can reference on your personal quest to achieve total wellness, health, and happiness in every important aspect of your life. I offer this book as a Black female who grew up poor in a single-parent household. I never knew any of my grandparents, had an absentee father (who I later found when I was 49), a mother with some "issues," no siblings, and many naysayers in my midst. But to achieve my goals to become a physician and a surgeon, I studied to show myself approved. It wasn't easy, but I got it done.
Over the years, I've seen thousands of women of various ethnicities suffer with chronic diseases, some of which can be avoided, or at least, better controlled. I also know the remarkable and re- warding joy of practicing medicine and performing surgery to remove disease, help women with their infertility, or free them from cancer.
As a physician, my question to you is, Are you taking time to take care of your health? In fact, when did you last really think about—and take time for—your health in a comprehensive, serious, deliberate manner?
Jack Kornfield's Buddha's Little Instruction Book reminds us that "each morning we are born again. What we do today is what matters most." Kornfield also tells us, "If your compassion does not include yourself, it is incomplete." Whatever your schedule, lifestyle, religious preference, or personal obligation to others, the reality is you won't be able to do anybody any good if you're in poor or failing health. As said in the 2021 movie Robin Roberts Presents: Mahalia, "Take one seed of what you give others and plant it in yourself."
The words and images within these pages present information that is applicable to the specific medical, spiritual, emotional, and social needs of Black women. However, non- Black women can glean valuable information about their health and standing in this book as well because I also provide comparative data for Black, White, Hispanic, Asian, and Native American women, as well as some data about our male counterparts. But special attention is given to Black women because the fact is, Black women's health concerns and challenges are different from those of other women.
In these pages you will find staggering statistics and a less-than-desirable legacy of Black women's health. But you will also find tools, medical information, and encouragement that can liberate you and Black women everywhere from a similar fate. With knowledge comes power.
Look at all the wonderful things Black women have done and continue to do when they employ their mind and determination in force. Hold on to that because improving one's physical health is doable—you can do it!— and changing the trajectory of Black women's health is also doable. It can be done, and it must be done because changing the health of Black women can change the health of the Black fam- ily and that of all future generations. As you review and compare the health statistics across racial lines presented herein, remember one thing: the goal isn't to be like White or Asian women; the goal is to be healthier Black women. Black Women's Wellness provides a head-to-toe medical reference, with information that will carry you for years to come. Some of you might read this book cover to cover, as a whole. Others might read chapters that address your, or a loved one's, current medical concern, circumstance, or curiosity. Or as you flip through the pages, you might see a pie chart or graph that grabs your attention or gives you pause.
In chapter 1, I begin with my "Societal Stress and Black Women's Health" flowchart that ties together the psychosocial challenges and micro- aggressions that we face as Black women and how those psychosocial stressors can affect our physi- cal well-being.
In part 1, I present timely information about heart disease, diabetes, maternal mortality, cancers, and HIV/AIDS . . . the top five conditions that are robbing Black women of life and longevity.
In part 2, I hone in on our womanly feminine form and function. As with all creation, the hu- man body is a thing of beauty with wonders it performs! No one would be alive today without a woman's body, for it is through women that all life is formed and born.
Medical conditions can affect all of us—whether we are tall or short; "thick" or thin; heterosexual or homosexual; light-skinned, "olive-complected," or the color of rich, dark chocolate. You'll read about your reproductive anatomy and physiol- ogy and the diseases that can affect your female organs, such as fibroid tumors and endometriosis, but also other medical conditions that cause mid- life "female" problems such as a dropped bladder, urinary incontinence, and pelvic pain. You'll read about vision problems, arthritic conditions, sickle cell disease, multiple sclerosis, and more. And if you are menopausal and utterly confused about hormone replacement therapy, this part can give you guidance.
No book on wellness is fully complete with- out addressing sex. Can I get an amen? Given my personal experience and professional expertise, I wrote the sex, sensuality, and relationships section with a heterosexual approach. But regardless of your sexual preference or identity, in part 3, you'll read about the health benefits of having sex (with whoever rocks your boat). There's also sage infor- mation about sexually transmitted diseases and how to identify any residual sexual hang-ups you may have so you can fully enjoy and benefit from the experience that love-making was meant to be.
Maybe your love life has gone from a sizzle to a fizzle, you have trouble achieving orgasm, or you experience pain with intercourse. Or perhaps you're wondering if male enhancement medica- tions work in women or how you can possibly en- joy sex in a day of rampant sexually transmitted diseases and men "on the down-low." Fret not; you've come to the right place! I give you tips on how to boost your sex life and get or keep the passion going with your sweetie. I also offer you advice on how to address these intimate issues (including sexual dysfunction) with your doctor.
And last, in part 4, I round out the call for total wellness with information on relationships, love, beauty, mental health, mindfulness, and financial well-being. I also provide a checklist for you to take stock of your health to identify the specific areas that require your medical attention.
To find happiness in a world of frequent, near-daily rejection, it is important to have inner strength, self-assurance, emotional balance, and reliable friends and family. Part 4 will give you useful tips to achieve inner peace, to keep your brain active and alert, and to avoid toxic people. It will advise you on how to capitalize on your best traits and, if needed, minimize those traits you find less desirable or that impede your personal or professional goals.
Proper diet and physical activity for increasing the secretion of endorphins—the "feel good" body chemicals—will be addressed, and tips for hair and skin care will be presented. Lastly, unique medical "pearls of wisdom" will help you improve your interpersonal relationships. Along the way, I will share a few anecdotes of my life's journey; perhaps they will encourage you to keep moving forward when you feel you just can't take another step.
I am excited for you and me. Despite the doom and gloom of the past, it is possible for Black women to achieve medical parity and live the best, healthiest life possible in the 21st century. We need not give up hope, for there have been and will continue to be victories and successes in the lives of women whose skin has been bountifully kissed by the sun. As never before, the 21st century presents a new day and an exciting time in health-care technology, research education, and improved medical outcomes, and no woman—whether Asian, Hispanic, Native American, White, or Black—should be left behind. Not anymore. This can yet be our time to shine, as many of us are living well past the statistical projections of life and death . . . and doing so in healthy, fine, fun, and sexy style!
Total wellness and phenomenal living are aspirations many Black women enjoy and others seek to attain. It can be done; the journey begins
with just one step. Black Women's Wellness may prove to be the long-needed source that can encourage, educate, comfort, and celebrate you, me, and Black women everywhere. With the information in this book, the evergreen list of resources I've provided at the end, and an "I've got this!" determination, your 21st-century journey to total wellness, physical health, and phenomenal living can begin right now. Let's get started!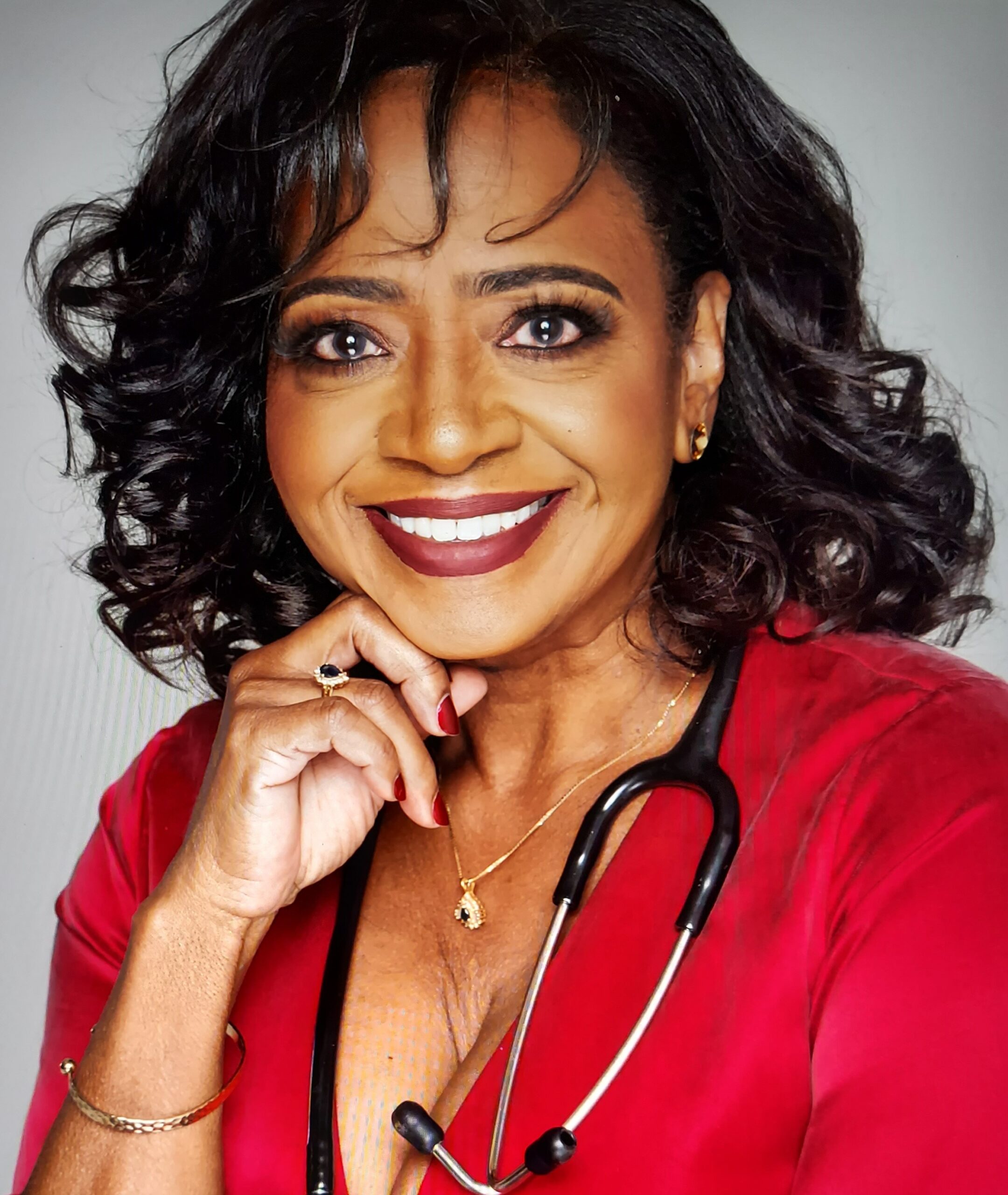 Melody T. McCloud, MD, is an obstetrician-gynecologist-surgeon, media consultant, public speaker, and author. She lectures nationwide on women's health, sex, and social issues and has served on an advisory council of the CDC. Affiliated with Emory University Hospital Midtown, Dr. McCloud was honored as one of the 25 most influential doctors in Atlanta and named Physician of the Year by the Atlanta Business Chronicle. She has appeared on CNN, ABC, NBC, Court TV, and in the New York Times, USA Today, the Washington Post, Parade, the New England Journal of Medicine, the Atlanta Journal-Constitution, and more.