It's time to start unraveling the mystery of you by exploring your current state of mind. Think of this as an adventure, a path toward greater self-understanding and self-compassion—and an expanded appreciation of the complexity of you. To get a sense of the modern-world issues that tend to rile or upset you, put on your imaginary miner's hat and head into the depths of your mind to see what lies below your conscious awareness. (You may want to do this with a trusted friend or partner.)
Consider your true feelings about the following subjects, without letting preconceived ideas about the right or politically correct way to think or feel about these subjects guide you; simply let your real feelings flow out of you in a free-association style.
Have a journal and a piece of paper ready. As you read the following words and phrases, jot down the first three to five words or phrases that come to your mind in response (don't edit or change what occurs to you instinctively):
• Climate crises
• Me Too scandals
• Human rights abuses (on a grand scale)
• Political corruption
• Racial, religious, gender, or political discrimination
• Environmental threats (toxins in our midst)
• Volatile financial circumstances
• Natural disasters (wildfires, floods, storms)
• International threats
• Social divisiveness in this country
• Hate crimes
• Nuclear weapons threats
• Gun violence
If other current events are triggering emotional inflammation for you, write them down in your journal or on a piece of paper.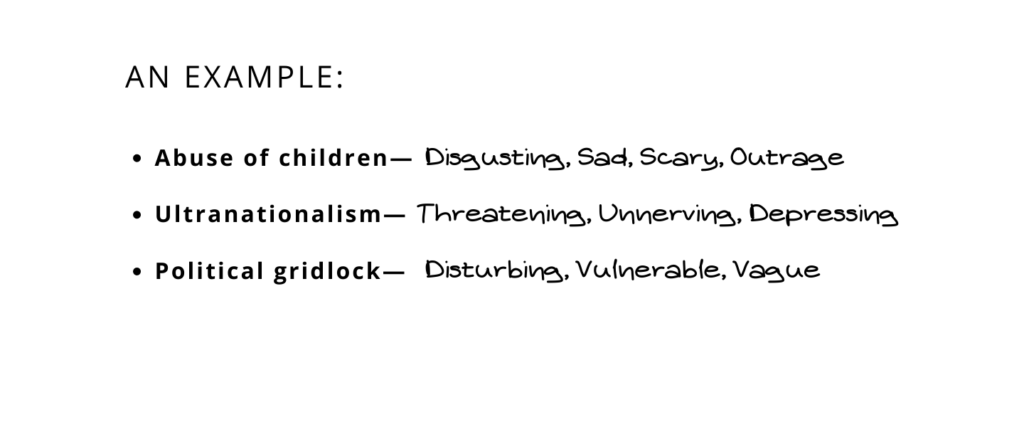 Don't worry if you feel put on the spot, thought-tied, and unable to come up with the right words to describe how you feel in response to the prompts listed above. Take a deep breath, exhale, and peruse this sample response. Rather than letting this person's examples sway or influence you, try to use them as inspiration to unlock the floodgates on your true feelings.
Now it's your turn!
After you've completed your list, assign a value to each of these concerns in terms of their potency for you on a scale of 0 to 3 (with 0 being neutral and 3 being intense). Do this quickly so you don't have too much time to think about it or second-guess your instinctive responses. Once you've finished this, place these triggers into a hierarchical list from a potency of 3 to 0, based on how they affect or resonate with you. This will give you a sense of what is likely to get you riled up these days.
If you want to dig a bit deeper, think about the way you responded to the descriptions of certain triggers—that you felt disgusted, violated, sad, and threatened when you thought about Me Too scandals, for example—then consider whether any situations from your past have evoked similar feelings for you. As you may see, emotional injuries or reverberations from the past can make you vulnerable to similar insults and assaults in the present. It's almost as if you have an emotional ember lying beneath your consciousness, and it's predisposed to flaring up from time to time. If you hear a single piece of distressing news and find yourself reacting surprisingly strongly to it, think about what else may be crashing around you or whether the news has somehow opened Pandora's box and exposed you to a deep abyss of other fears and worries. Or it may be that a more superficial emotional injury is on the way to healing but then the scab gets ripped off and the wound bleeds again when another upsetting event occurs.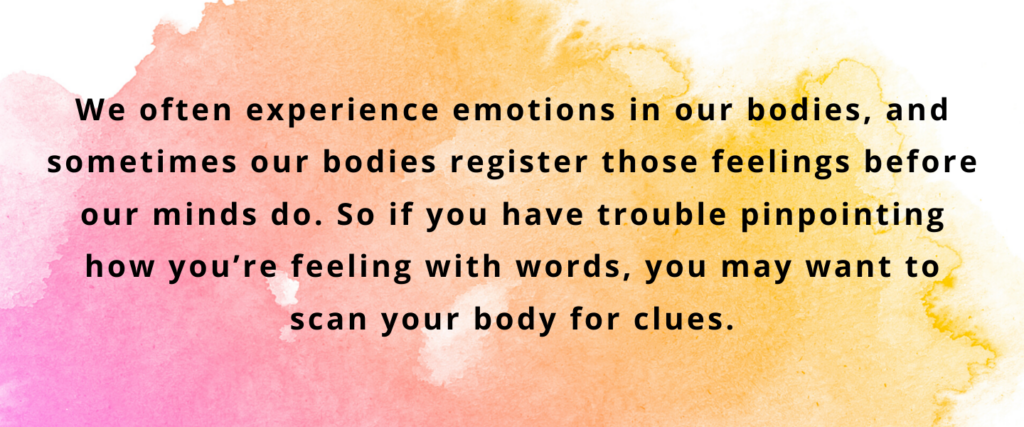 As it happens, we often experience emotions in our bodies, and sometimes our bodies register those feelings before our minds do. So if you have trouble pinpointing how you're feeling with words, you may want to scan your body for clues. When researchers in Finland performed a series of cross-cultural studies with 701 people from West European and East Asian cultures, they had the participants view various words, stories, movies, or facial expressions, then color specific regions on silhouettes of bodies where they felt activity increasing or decreasing while they viewed each stimulus. This exercise in mapping bodily sensations in response to emotions revealed that basic emotions—including anger, fear, disgust, happiness, sadness, and surprise—were associated with sensations of elevated activity in the upper chest, which likely reflects changes in breathing and heart rate. Increased sensations in the arms and torso were associated with anger. Decreased sensations in the arms and legs corresponded to sadness. And increased sensations in the gut (the digestive system) and throat were found primarily with disgust. The most fascinating revelation was that these effects rang true among people cross-culturally.
So if you have a mental block that makes it difficult to recognize your emotional triggers (which some people do, in a subconscious effort to protect themselves from emotional discomfort), paying attention to your bodily sensations can give you clues about what you're experiencing. Even if you are highly attuned to your emotional reactions, sometimes they can sneak up on you, and you might experience a particular bodily sensation before you are aware of the actual trigger or your response to it. That's because we all have blind spots to reflexive emotional states we're susceptible to experiencing.
This is an excerpt from Emotional Inflammation: Discover Your Triggers and Reclaim Your Equilibrium During Anxious Times by Lise Van Susteren, MD, and Stacey Colino.