Emotions are the primary way we connect with others. In fact, for all the ways we perceive that sharing our emotions causes trouble, it's actually worse for us not to. Sharing our truest, most vulnerable selves actually prevents us from the isolation that occurs when we miss out on the deep connection that only comes from this type of transparency. While social media can be a place of great support, it's also caused a huge challenge. Because we've created a world in which we are addicted to showing our curated emotions, social media posts rarely tell the entire story. We've gotten accustomed to holding back our real selves—so much, in fact, that we have a totally distorted view of what's "real."
On a wet fall day as I was researching the negative effects of social media for this book, I noticed that a heavy sense of melancholy had fallen over me. Pushing myself to go out for a short walk in my beloved Central Park, only a block away, took every ounce of energy I had. When I was out, my sadness didn't fade, but astounded by the colorful change of leaves, I felt inspired to take a handful of photos. They were the kind that Instagram is made of. When I got home, I decided to post them on social media. But earlier that day I had read something that was still with me: what happened when Tracy Clayton, host of the BuzzFeed podcast Another Round, asked people to repost photos they'd previously shared on social media, but this time, with the "real story" behind them. The photos that most of us would have longed for had painful stories behind them. One woman admitted to a terrible anxiety attack that took her all day to overcome, someone else shared the grief over a loss of a loved one stuffed under their smile at a party, and so on. What this shows us is that we are all running after a farce. But what's worse, it shows that we're all co-creating it.
So after a brief pause, I posted my gorgeous fall photos from the park with this: Full disclosure: Inspired by research for my next book about how social media posts screw us up by making everything and everyone seem OK even when they are not, I'm adding the truth here. These pictures were taken on a walk I dragged myself on because I felt sad today for no particular reason (except for that life is a lot sometimes).
I am typically not a sad person, nor am I one who shares it on social media when I am. I am very transparent on my author account, but for some reason, I am less so on my personal page. The response that day when I shared how I really felt took me by great surprise. Dozens of people I rarely heard from came out of the blue with comments, texts, and private messages. And what most of them were saying was, "I feel that way too." In our technological age, we are more connected than ever before, but also lonelier and more isolated than ever before. I wondered that day, What if everyone stopped staying so busy pretending everything was perfect? What if instead of hiding our vulnerabilities to prevent the isolation we fear, we are driving it?
The bottom line is that, over and over again, I've learned that emotions are better in every way when they aren't kept inside and to myself. 
This is an excerpt from How to Heal Yourself From Depression When No One Else Can: A Self-Guided Program to Stop Feeling Like Sh*t by Amy B. Scher.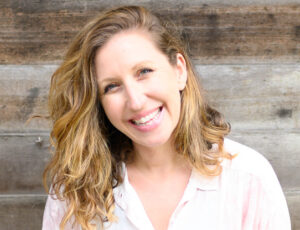 Amy B. Scher is an energy therapist, expert in mind-body healing, and the bestselling author of How to Heal Yourself When No One Else Can and How to Heal Yourself from Anxiety When No One Else Can. She has been featured in the Times of India, CNN, HuffPost, CBS, the Washington Post, Cosmopolitan, the Los Angeles Review of Books, Curve magazine, and San Francisco Book Review. Scher was also named one of the Advocate's "40 Under 40." She lives in New York City. For more, visit amybscher.com.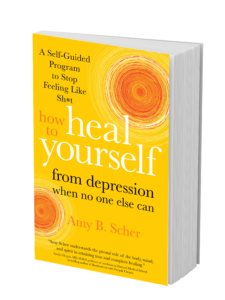 Learn More
Sounds True | Amazon | Barnes & Noble | Indiebound | Bookshop