When you are stuck with old unprocessed experiences living inside you, they can create what I call a trauma-trigger cycle because they are still very much alive in our systems.
Here's my analogy to help you understand how this works and why it causes so much trouble. Imagine that you have a very difficult experience, for example, having to say goodbye to a sick pet. All of the details in the form of individual feelings, smells, images, sounds, and more get bundled up and deposited into a metaphorical glass trauma capsule—which gets stored in the body. It sits there with all of the old feelings we experienced at the time the event happened. While you might not be aware of it constantly, you are likely feeling those emotions at a low level all the time. When any current situation reminds you of any of those details hanging out in the capsule—either consciously or subconsciously—the old trauma gets "poked," or reactivated. This is how we get triggered. Being triggered can bring up flashes of those memories, including images, feelings, and any sensory stimuli.
For the most part, except in certain cases of post-traumatic stress disorder (PTSD) from major life events, where sometimes the trigger is known, this trauma-trigger reaction actually happens at a subconscious level, outside of your awareness. Even in obvious situations, you may think you know what the trigger is, and try to avoid it, but it may be something totally different that got stuck in the metaphorical glass trauma capsule. Often, people come to me and say, "Nothing set this off," "I'm depressed for no reason," or "I suddenly started feeling terrible but nothing happened." While this may seem true, I can bet on the fact that while the bad feelings might seem random, they are being triggered in some way that you simply haven't yet identified. Triggers can be foods, colors, smells,sounds, weather, or anything, really! Finding and resolving triggers can become almost an entertaining game if you let it.
As you can imagine, this entire trauma-trigger dynamic is very unsettling and unpredictable—which can feel like danger to your system and keep you stuck in that freakout response. Not only that, but in this state, you can actually be excessively tuned in to your trauma, seeing reminders of it everywhere, which further traumatizes you.
I had an experience after going through a loved one's difficult health crisis where every single place I looked, I saw reminders of the experience. And for someone who wonders if everything is some greater "sign from the Universe" (fact: not every single thing is) or my intuition is trying to get my attention because another loved one might be in danger (second fact: trauma and fear clouds intuition), it felt like torture to me. I kept meeting people who had the same illness that my loved one had had, saw posters and billboards advertising medications for the condition, and more. As a distraction while on vacation, I had deliberately picked out several seemingly lighthearted books to take—and it turned out a character in every single book had that same medical condition! I was constantly on edge and further traumatized by all of these things. This is a perfect example of what happens to us in a traumatized state: we become highly attuned to the world around us, perhaps subconsciously scanning for danger, but in the process, we see and get triggered by everyday things we've probably passed by a million times before. I realized that had I been tuned in to any other single thing out in the world, like peaches, I likely would have seen that everywhere. This recognition actually led to a funny mantra I used during that time to keep things light while I did the deeper healing work: Look for the peaches! But in all seriousness, what happened as I worked to release the trauma, just like you'll be doing in this chapter, was that I stopped seeing reminders of it. I have to be honest in that this took months of using energy therapy in different ways to overcome the trauma I had experienced, like you'll be learning soon—but it worked. Did all the people with this condition go away? Did all the billboards get taken down? No. The less traumatized I became, the less heightened my sensitivity to it was. This is a perfect example of why it's essential to work with unprocessed experiences.
Emotional memory is stored throughout the entire body. Thanks to the work of Candace Pert, we know that "unexpressed emotions from experiences can get stuck in the body at the level of cellular memory." This is such a simple explanation for why we feel bad when we haven't resolved our past experiences. We are still quite literally feeling them. And even if it's at a subtle level, it may only take a "trigger" from that metaphorical glass capsule to awaken it.
While your own unprocessed experiences may not disrupt your life in the way that clinically diagnosed PTSD does, you may relate to what it feels like to have PTSD, when one or a few memories from life takes over all of it. This is, again, why we must deal effectively and consistently with our emotions instead of suppressing them. Otherwise, we are at risk of our emotions becoming part of future unresolved experiences.
Even knowing all of this, there's no need to panic. Again, not all experiences traumatize you. And, not all traumas will need to be dealt with in order to get you feeling better. But the ones that do need careful attention. I want you to understand that by working with trauma, we are not trying to force a positive perspective on it or make you be okay with something bad that happened to you. Not at all. What we want to do is release the stress it's causing you, even if that stress is undetected consciously. We don't want these traumas taking up space and energy in your body anymore or triggering you without your knowledge.
Working with unprocessed experiences will help empty the metaphorical glass trauma capsule so we stop becoming triggered by the world around us. In other words, you'll be seeing peaches more easily instead of trauma triggers.
This is an excerpt from How to Heal Yourself From Depression When No One Else Can: A Self-Guided Program to Stop Feeling Like Sh*t by Amy B. Scher.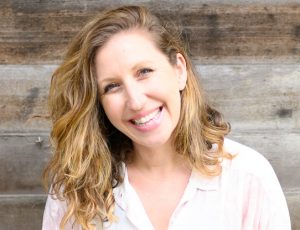 Amy B. Scher is an energy therapist, expert in mind-body healing, and the bestselling author of How to Heal Yourself When No One Else Can and How to Heal Yourself from Anxiety When No One Else Can. She has been featured in the Times of India, CNN, HuffPost, CBS, the Washington Post, Cosmopolitan, the Los Angeles Review of Books, Curve magazine, and San Francisco Book Review. Scher was also named one of the Advocate's "40 Under 40." She lives in New York City. For more, visit amybscher.com.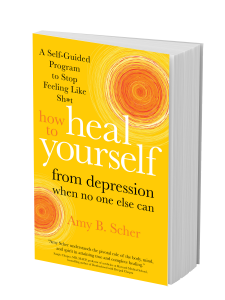 Learn More
Sounds True | Amazon | Barnes & Noble | Indiebound | Bookshop