The heart chakra is the central integrating chamber of the chakra system. Through the healing power of love, all things eventually find their way to connection and wholeness. 
ANODEA JUDITH
Heart Medicine Rituals
The greatest lesson I have learned so far is to exist within my heart. This is a lifelong practice for me because, like many, I was not taught to inhabit my heart space. On a physical level, the general collective is not doing so well in our hearts. This is evidenced by the stark reality that heart disease is the leading cause of death worldwide. This high incidence of disease points to a deeper situation of the heart, but in order to be open to the possibility that more profound heart healing is necessary and possible, we must open our minds to a more metaphysical or energetic interpretation of what the heart is and what it does. Ancestrally, the heart held a much higher evolutionary significance, and as our consciousness split, we moved from inhabiting our hearts to glorifying our minds. Perhaps this disconnect can illuminate some clues for us to consider to reclaim more balance within our hearts, ourselves, and our world. 
Vibrationally, the heart contains the strongest electromagnetic field of any organ in the body. Transference of heart energy can occur in close proximity with another human or animal; and if you apply the theories of quantum entanglement and wave function collapse, transference of heart energy can resonate beyond space or time. Plants and the elements, too, can have a positive entrainment effect on the heart, reiterating the interconnectedness of all life and the organic balance nature engenders. In both traditional Chinese and Tibetan medicines, the heart is the mind. In TCM, grief is stored in the lungs and closely related to the heart. The Hopi defined harmony as one's heartbeat in resonance with others and the Earth.
Our liberation is tied to the heart. The cost of liberation is unique to every person and is cosmically linked to each of us. The price of liberation varies for each individual, but we are given choices: in what we think, what we feel, what we believe, how we want to be. The inability to see choice is the unconsciousness of the fear-based toxic masculine that seeks to keep us disconnected and disempowered.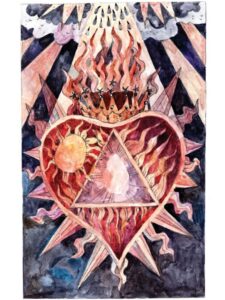 Our liberation depends largely on our ability to love unconditionally. Unconditional love means loving without circumstance or codependence. This can take different forms, from exiting a toxic relationship to taking more care of yourself. And it doesn't stop there. If you want to get really free, you have to love yourself no matter what, and love all beings no matter what. Tall order? Yes. Impossible? No! While humans are conditioned to be in separation, plants (and animals) hold only unconditional love for all life. There are people on this Earth who radiate unconditional love, and when you are in their company, your heart is completely relaxed and open. For instance, my heart feels completely free when I am with people and animals who love me unconditionally. My heart also feels free in this way when I am in nature. Can you think of anyone who loves you unconditionally? Or perhaps it's easier to think of an animal or pet? What if you loved yourself and everyone like that? What if you loved all your uncomfortable parts, illnesses, and neuroses like that?
EXERCISE: Making a Rose Essence and Heart Breathing Exercise
There are a few plants whose application is almost universal, and the rose is one such flower. Roses hold the frequency of unconditional love and have an affinity for the heart chakra. This ritual works best with either a wild growing or organically cultivated rose; it can be any species within the Rosa genus. Some of the lower vibratory states that can be addressed with rose include grief, loss, heartbreak, depression, and panic. 
This ritual is very simple. You're going to combine the process for making your own medicine (see a simple how-to video here) using the rose of your choice, with the heart breathing exercise that follows. The heart breathing can be done while the flowers are in the water, working their magic. The heart energy you engage during the medicine-making process will become part of the energetic signature of your flower essence. After you bottle it and make the dosage bottle, take a few drops and see what you notice around your heart. Be sure to notate your findings. You now have a rose flower essence for your apothecary whenever you or someone else needs it. 
HEART BREATHING RITUAL
After you have placed the flowers in the bowl with the water, sit comfortably on the ground, if possible. Close your eyes or set your gaze low. Place both hands over your heart and begin to breathe into the heart space. Visualize the rose you are working with. Notice how the breath moves in and out of the heart—not forcing the air, just allowing it to move. See if you can sense into how the heart is feeling—in the front, in the back, all sides. Be sure to breathe into the back of the heart space. Notice how the heart feels when you place your awareness on it. See if it's okay to allow whatever is arising, witnessing without judgment. 
After a few minutes, begin to bring the heart back into a neutral position. Thank your heart and the spirit of rose for sharing with you. Feel your body making contact with the Earth, deepen the breath, and slowly open your eyes.
The video on how to make your own flower essence medicine can be found here.
This is an excerpt from The Bloom Book: A Flower Essence Guide to Cosmic Balance by Heidi Smith.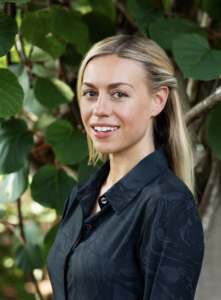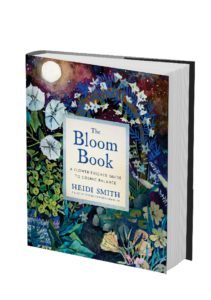 Heidi Smith, MA, RH (AHG), is a psychosomatic therapist, registered herbalist, and flower essence practitioner. Within her private practice, Moon & Bloom, Heidi works collaboratively with her clients to empower greater balance, actualization, and soul-level 
healing within themselves. She is passionate about engaging both the spiritual and scientific dimensions of the plant kingdom, and sees plant medicine and ritual as radical ways to promote individual, collective, and planetary healing. She lives in Brooklyn, New York, with her partner and two cats. For more, visit moonandbloom.com.
Learn More