FIND THE SOURCE
This is a tender exercise, a tracing of pain, the path back to the deepest wound. For myself, a huge hurt that I carry is often the source of great realizations and growth. I've worked with many different types of therapy for years to figure out where my pain stems from, and my curiosity has been my greatest guide in this effort. I want to know why I am the way I am, and my trauma informs so much of my mindset. Do you know where your pain comes from? Does it point back to a certain occurrence? Do you have only a vague idea, a slight memory, that seems to be the source? What do you do to familiarize yourself with the hurt you carry?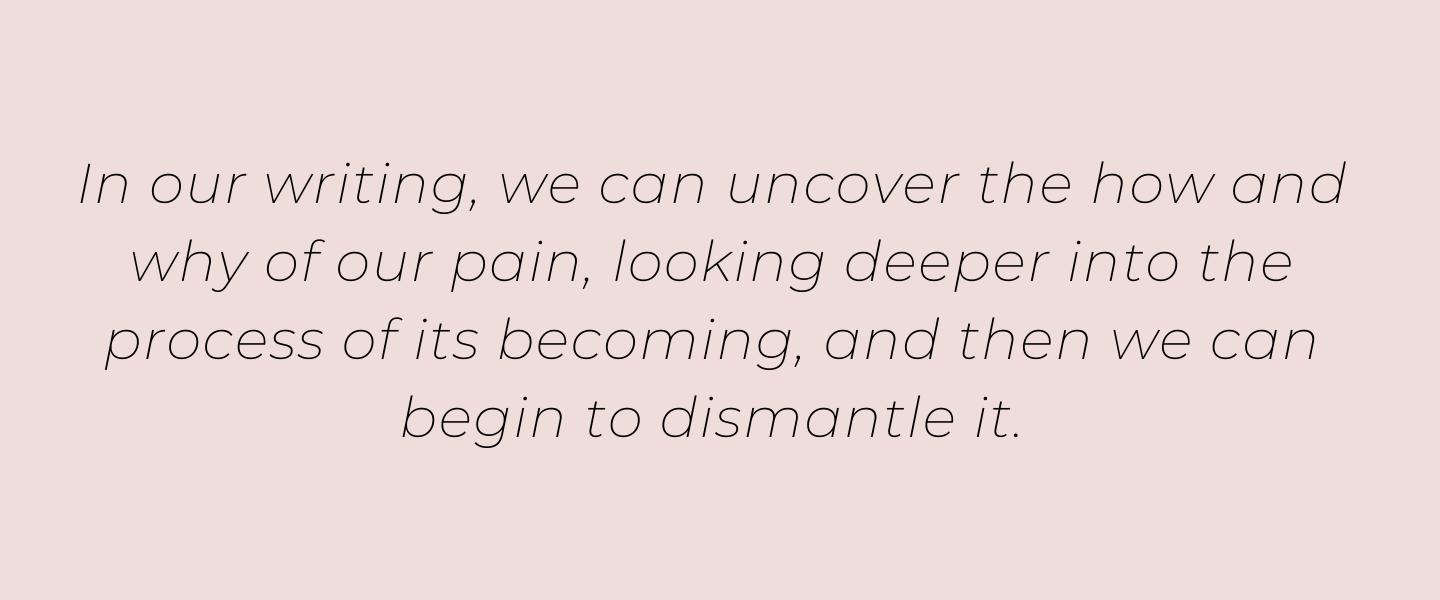 There are countless, well-trusted methodologies to help us become acquainted with our pain, and when we dig into this work, the cave of our understanding becomes incredibly deep.
I like to turn my pain into a guide. I follow its directions, meditating on where it all began. It's at these starting points where I find the most potent feelings. My heartbreak from a failed relationship will often give me a chance to let out my sadness in verse, but not before I try to unpack the whole story. Only when I attempt to understand the many aspects of this failed relationship can I fully feel it and pay tribute to it. I begin this kind of investigation by rambling in my journal. Then, if I feel inclined, I might pull the heart of my understanding into poetic form. I recently wrote a book of poetry called Help in the Dark Season, which focuses on my childhood trauma, the way it affects my adult relationships, and the modes of healing that have helped me grow. Writing this book was extremely hard, but after I finished, I felt like I'd turned coal into gold. I pulled back the curtain inside myself and let light do its thing. Now I not only get to feel the inner effects of my work but I'm also able to witness the importance of sharing this book with others, the way my words act as a key to unlock their personal process of healing. The result of this revealing has been an honesty and a newness that I couldn't have reached without the alchemy of writing poetry.
I urge you to do this hard work with your trauma, if you're able. Give yourself permission to move into the realm of blame. Maybe move beyond it toward forgiveness.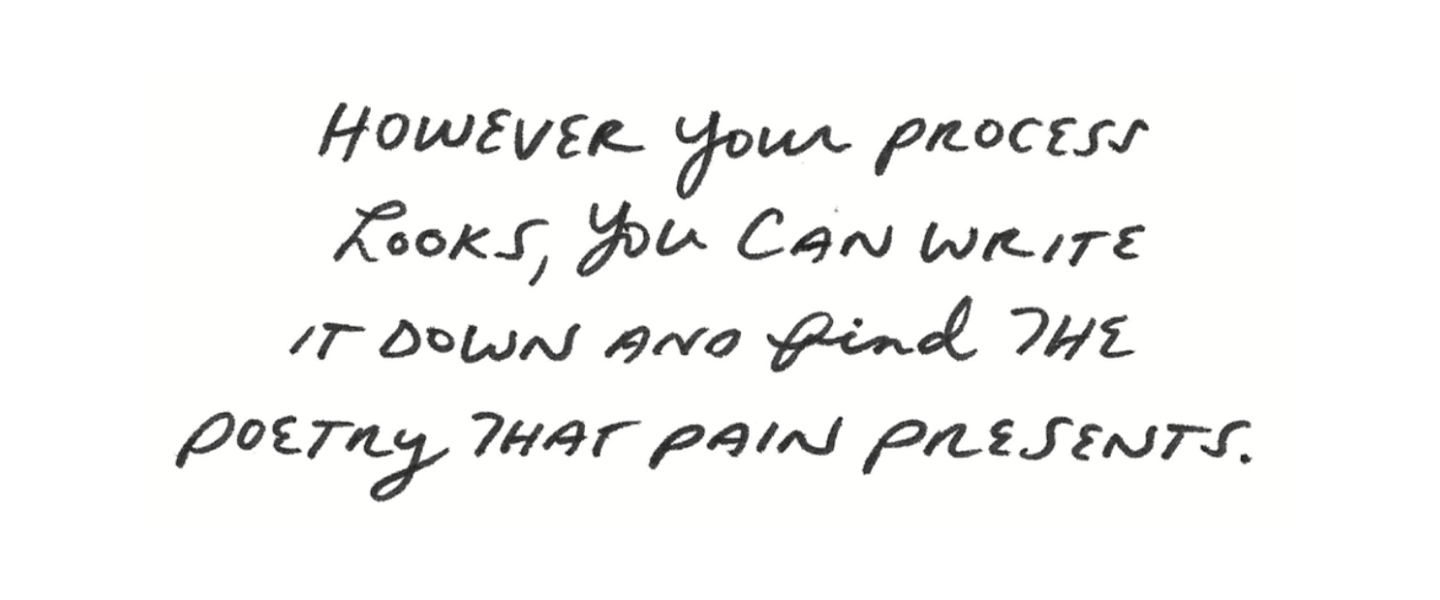 Our traumas create our fears, and our responses to these fears can be as poetic and beautiful as we make them. Let your pain be a source of inspiration, turn this heavy load into poetry, own it, use it, and take as much from it now as it has taken from you in the past.
Close your eyes and meditate on the hidden ache you carry. I like to start with my childhood because that's what makes sense for me, but you can start anywhere along your timeline. Do you see any images attached to your discomfort? Can you try and put words to your grief and your loss? Who hurt you? What was their childhood like? Why did they do what they did? Make use of the pain of being alive. See the universality in whatever caused you harm, and focus on the connection to others who have survived similar experiences. When I sit with my wounds, I find my resilience, and that makes me want to linger there, gather up the lessons left in the aftermath, and use them for my own creation. Writing about my pain enables me to claim it as my own, and this ownership is empowering.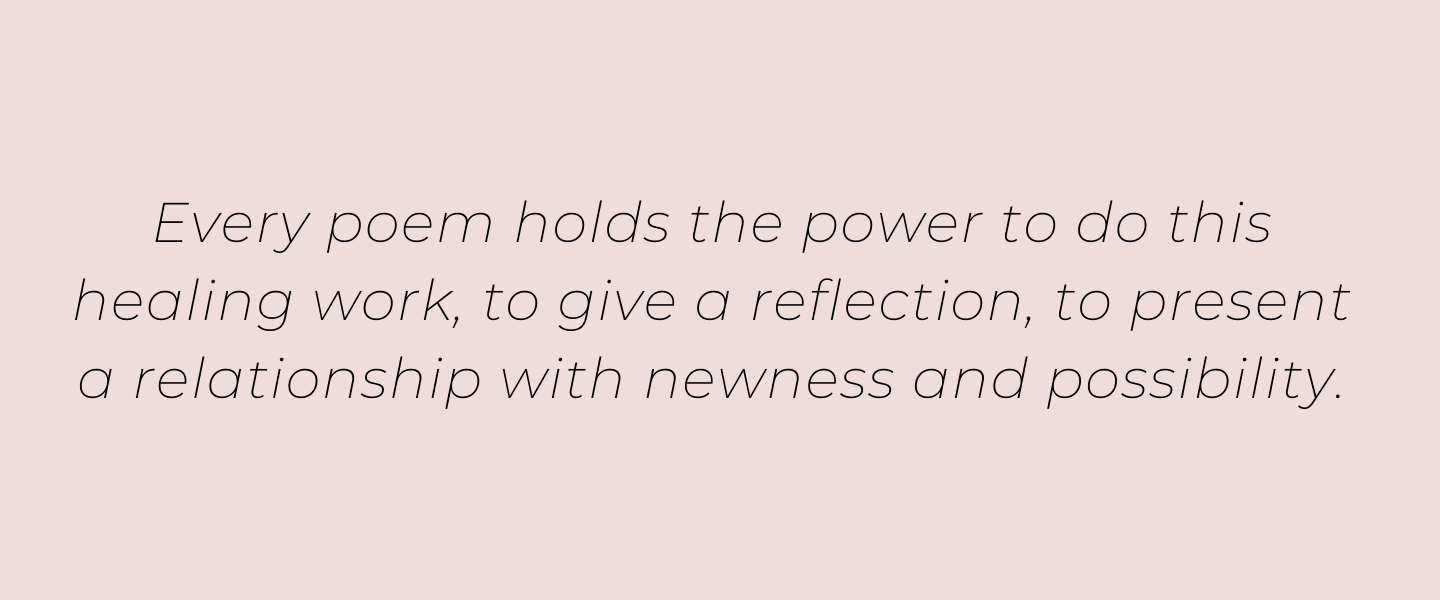 How can you show your reader your personal methods of self-care in a poetic way? Maybe start by writing a list of poems or even song lyrics that have been healing for you in the past. I have poems dog-eared and underlined in every book on my shelf, and I'll pull them out in a moment of need. They're my reminders that yes, it is indeed hard to be alive for everyone.
This is an excerpt from Every Day Is A Poem: Find Clarity, Feel Relief, and See Beauty in Every Moment by Jacqueline Suskin.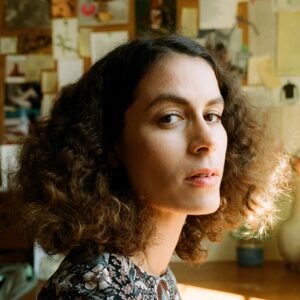 Jacqueline Suskin has composed over forty thousand poems with her ongoing improvisational writing project, Poem Store. She is the author of six books, including Help in the Dark Season. Her work has been featured in the New York Times, the Atlantic, and Yes! magazine. She lives in Northern California. For more, see jacquelinesuskin.com.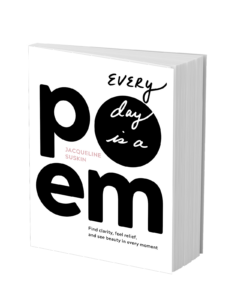 Sounds True | Amazon | Barnes & Noble | Indiebound | Bookshop